Highlighting Tropic:
Latest: Biden 264-214 Trump

All eyes are now in Pennsylvania, Arizona, and Georgia. As the counting of votes is still going on, we have to wait for the victory and defeat to be confirmed.

At least 270 out of 538 electoral votes must be confirmed to be elected President of the United States.

After Wisconsin, Democrat candidate Joe Biden has widened the gap to a final victory in Michigan. He says he's winning; it's 'clear.'

On the other hand, the Republican candidate, President Donald Trump, is going through a legal battle. In that case, waiting for the final result will increase.

More than 100 million votes were cast in advance in this election amid the #coronavirusepidemic. It is expected that this year's election will see the highest turnout in more than a century. The postal ballot count is taking longer.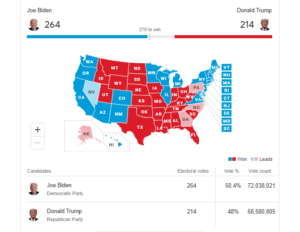 Clear Victory For Joe Biden:  If Biden Wins in "Nevada", He Will Reaches a 270 Magic Figure. 
Democrat candidate Joe Biden said he was winning the states needed to run for president, although it was "clear" that he had not declared victory as the vote count was still ongoing in some states.
"I did not come to announce the victory. I came to say that we believe that when the count is over, we will see ourselves as the winners."
Biden, speaking alongside Vice Presidential candidate Kamala Harris, said they were on track to win most U.S. history votes.
Pennsylvania, Wisconsin, and Michigan: All eyes are now on these three states. With most of Wisconsin's votes counted, Biden is slightly ahead. Trump is ahead by a very small margin in Michigan.
However, in some Democrat-dominated areas, such as Detroit, not all votes have been counted. And Pennsylvania, an important state with 20 electoral votes, is well ahead of Trump. But there are still a large number of postal ballots waiting to be counted. All counts may have to wait until Friday.
Arizona: Democrats have never won the state since 1996. But this time, Joe Biden is still ahead.
Nevada, Georgia, and North Carolina: Some of these states are in fierce competition, while the recount is far behind.
Amid the epidemic, it may take a few days to count the record number of advance votes cast by post in this election.
And if one of the candidates goes to court challenging the result, it may take a few weeks to get the final result.