Want to shop for your dream bridal lehenga online within a reasonable budget? We know the best brand with designer bridal lehenga choli online collections at the best price, i.e. Vasansi Jaipur.
The craft of this Jaipur based ethnic fashion group has become the favorite of celebrities to common folks. So being a #VasansiBride is nothing less than a dream come true. Get wedding planner classes easilly. 
While the exclusive bridal lehenga designs of Vasansi Jaipur are to die for, the best part is the extensive price range for every budget. From pocket-friendly to premium rates of bridal lehenga choli collection, you will find the perfect budget lehenga for your wedding day. Moreover, the sale season comes often, so you also have a chance to get huge discount offers.
So helping you pick the bridal lehenga online and under your budget, here we have shortlisted some of our most favorite bridal lehengas with price and images from Vasansi Jaipur. We hope by the end, you will get the best pick. You can also go to the website to see more options.
Designer Bridal Lehenga Choli at Best Rate
If you have a good budget, this red bridal lehenga choli from Vasansi Jaipur is the best for you. Make a style statement with this exclusive lehenga design for your wedding. The heavily embellished lehenga choli in golden zardozi and thread work is a modern twist to the traditional monochrome red bridal wear. Pair it with your style statement jewellery.
Shop this bridal lehenga online at a price of Rs. 2,75,350 from Vasansi Jaipur and see the complete look images on the website.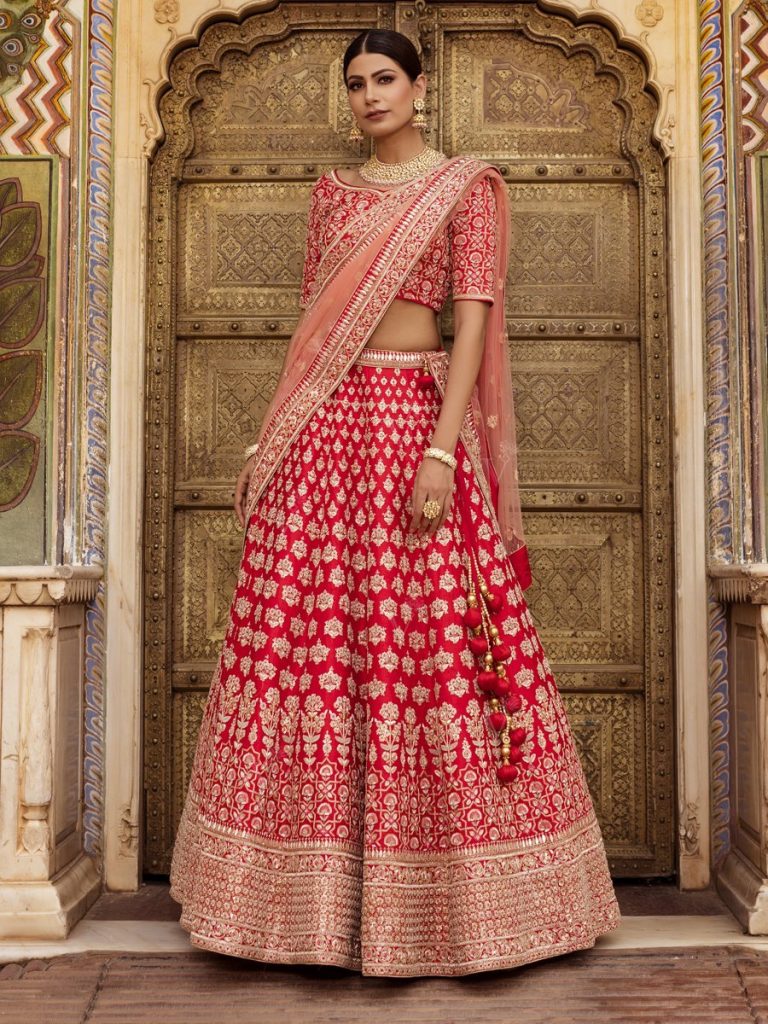 Maroon Velvet Bridal Lehenga
Want to tie the knot with the love of life in a lavish royal-like wedding? Then, get ready for your wedding day in this royal look bridal lehenga. This maroon lehenga has a regal touch to it. You will look and feel like nothing less than a royal princess.
Buy this special bridal lehenga choli from the exclusive collection of Vasansi Jaipur at a price of Rs. 2,13,500. It is a great deal for the designs and the premium handcrafted intricate floral zardozi work adorning this lehenga for bride.
Peach Raw Silk Lehenga Choli
Peach is a perfect color for an extraordinary bridal outfit. The eye-catchy peach and white color combination of this bridal lehenga are truly phenomenal. In addition, the tassel details, handcrafted work and everything about this bridal lehenga will make you fall in love with it.
The best thing about this lehenga is that you can wear it at other party functions or festival occasions. For a price of Rs. 1,83,000, shopping for this wedding lehenga online is a great investment. See more of the bridal lehenga images with price rate from this collection on the Vasansi Jaipur website.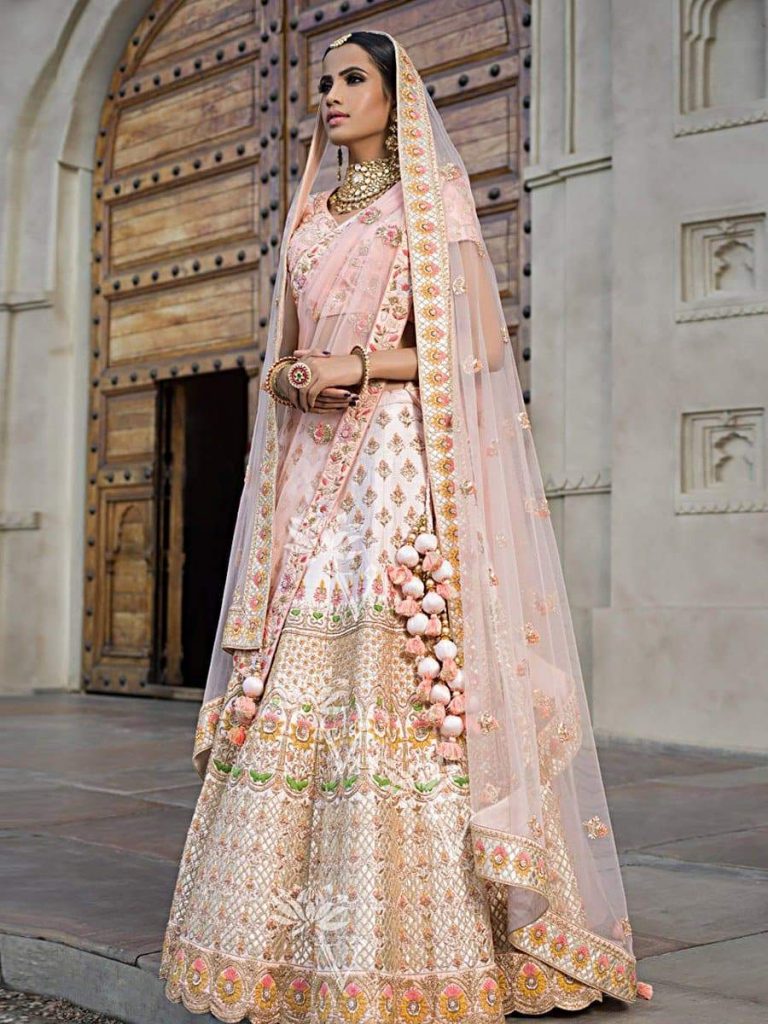 Beige Raw Silk Lehenga
With this scintillating look that is just absolutely dreamy, how can all eyes not be on you! The color choice of this bridal lehenga is right on point. The shades of beige melting into each other is so perfect. The zardozi and gotta Patti work give the lehenga a gorgeous look without going overboard.
We surely can't keep our eyes off this lehenga, can you? Buy this limited edition bridal lehenga from Vasansi Jaipur. See the complete look of bridal lehenga images with the price on the Vasansi Jaipur website.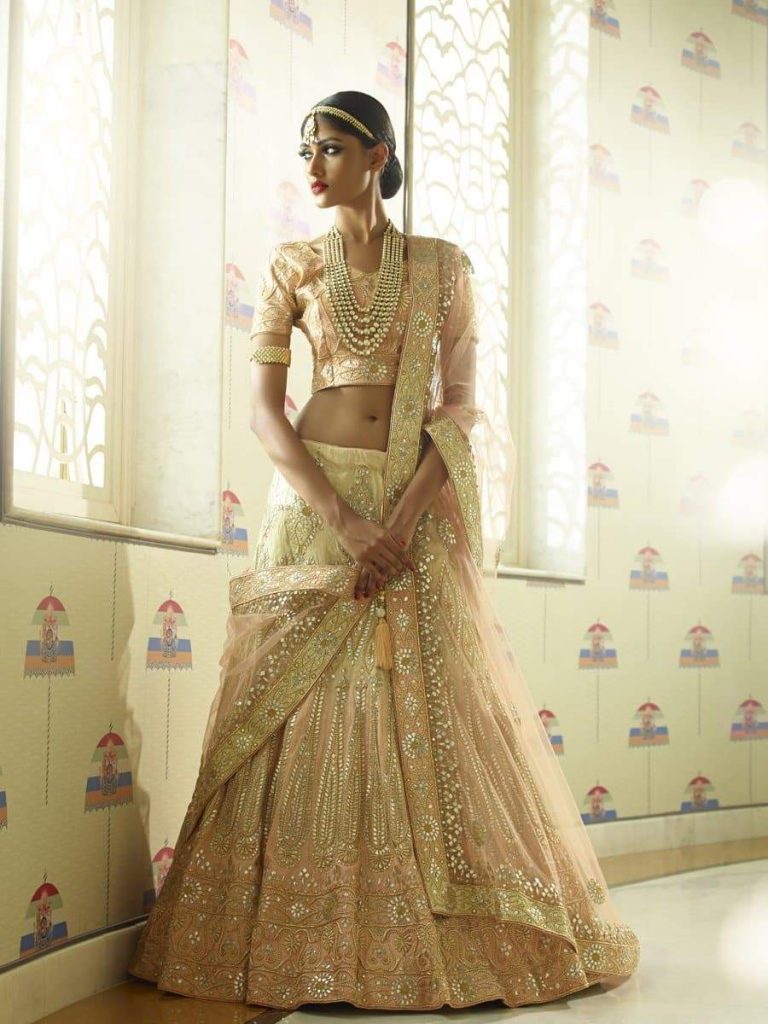 Pink Bridal Lehenga at Low Price
Do you imagine walking towards your groom in an exclusive designer bridal lehenga but think that you can't shop one because it is out of your budget? Don't fret anymore. We are here to save the day for you.
This pin lehenga for bridal lehenga from Vasansi Jaipur has a little low price and is worth Rs. 67,960 only. For,, a low budget lehenga shopping this lehenga choli is perfect for you. This pink hue silhouette is embellished with aari, cut daana, resham, and sequence work. You will look nothing less than the epitome of beauty.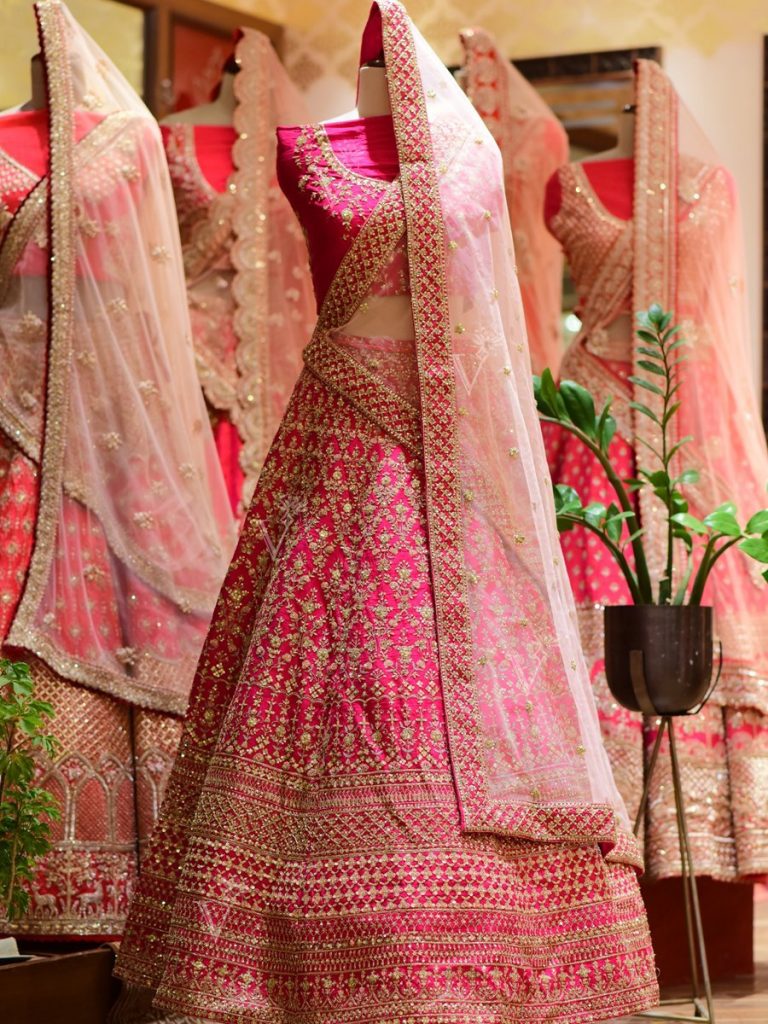 Vasansi Jaipur: Best Online Store for Wedding Shopping
Vasansi Jaipur is the safest option to buy your bridal lehenga at a reasonable price online. Unlike other brands, Vasansi Jaipur maintains a premium quality of work even at discounted prices. Moreover, they have a very customer-friendly policy for shipping lehengas. So even if you need to exchange your bridal lehenga, you can easily get it done from Vasansi Jaipur.
Another key point that is neglected while online shopping is the privacy policies of the website. But with the Vasansi Jaipur website and privacy policies, you don't have to worry about anything. Any of the information you share is only used for basic purposes such as delivering your order.
Conclusion
Vasansi Jaipur is the best place to shop for bridal lehenga online. You can see more bridal lehenga with price and images of the catalogue on the website. To place your lehenga order, visit the website. Then, select your dream wedding lehenga and make the payment. You will soon have your wedding lehenga at your doorsteps. Moreover, you can even shop more dresses for your wedding functions from Vasansi Jaipur.